The selection of fresh produce just gets better and better and the summer growing season is in full swing! Remember, our market is Texas-grown, with a serious emphasis on LOCAL! We invite you to come out to Market Square and enjoy fresh food, all-natural products and other delights. And check out the selection of handmade creations, too!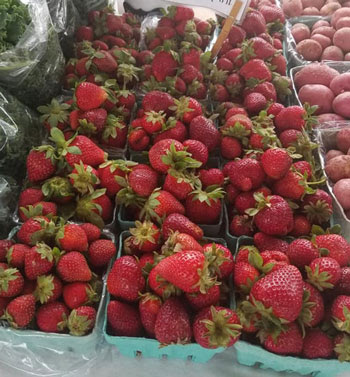 This week's vendors are:
April Hackney
Brecheisen Farm
Diamond K Farms
FLOHAS Farms
Found Penny Farm
Fresh Pasture Farm
Galyeans Organic Farm
Gibson Acres Farm
Granny's Gourmet and Gifts
Lubiani Studios
M & B Farm
MCDesigns
Sweet Susie's Herbals
Texas Frontier Farm
Timberridge Farm
Wild Heart Soaps
You can find complete information on each one, as well as what they usually have on hand at this link.
Produce Expected This Weekend:
Strawberries
Potatoes
Green beans
Yellow Beans
Blueberries
Blackberries
Yellow Squash
Zucchini
Cucumbers
Japanese Cucumbers
Garlic, Negi & Nasi
Summer Squashes
Kale
Onions
Onion Chives
Tomatoes
Green Tomatoes
Radishes
Carrots
Gourmet Lettuce
Collard greens
Swiss chard
Beets
Squash Blossoms
Herbs
Other Items expected are: 
Locally raised Pork & Chicken
Farm Fresh Eggs
Duck Eggs
Honey
Variety of Breads
Pound Cake & Baked Goods
Jams & Jellies
Relishes, Marinades & Rubs
Fresh Cut Flowers
Japanese Roku Pottery
Fused Glass Art
Handmade soaps
Jewelry
Garden Tool Sharpening
Crocheted Kitchen Towels
Greenville Farmer's Market is located at Market Square, 2500 Bois D Arc St. (on the corner of Lee Street in Downtown Greenville).
–
Source: Friends of Greenville Farmers Market